 Phishing

IT

Security

Oxford
Has

your

business

been

affected

by

Phishing?
Don't worry! Wiseserve can help you recover and repair from this attack.
Phishing is the fraudulent attempt of obtaining sensitive, important information such as usernames and password credentials, address and credit card details by disguising oneself as a trustworthy entity of a digital media organization. The gathered information is then used to access important accounts and can lead to identity theft and financial loss.
Every day our clients are being targeted and tested with exploits that are getting sneakier – scammers and hackers are stepping up their game, which means we need to step up our security and our awareness to scams. Today, we want to give you some guidance on how to spot scams and offer you an audit to make sure your staff are secure. Please forward the below email to your colleagues to help prevent malicious attacks. The cryptolocker viruses (like the Wannacry virus that hit the NHS) mean that just one user can spread a crippling virus across the whole business with one mistaken click
Term refers to is when a previously legitimate email had its content taken, and was used to create an almost identical clone email. And the content of the email would be replaced with malicious content. After which it would be sent to look as if it would be coming from the original sender.
Term refers to an attempt directed at specific individuals and companies. Attackers normally gather personal information and use it to increase their probability of success.
Term refers whenever an attach is directed specifically towards a senior executives of staff and other high profile targets. The culprits will try to craft content to match the target.
How

to

protect

your

business

and

prevent

Phishing

?
It all begins with security awareness training. It needs to be regularly updated, because of the constant atacks which are aimed at companies and individuals. The phishing techniques are getting more dangerous, as they sometimes can be hard to differentiate, so training must be held to reflect on current and new phishing attacks, as well as teaching new users to : How to identify phishing attacks To be cautious of pop-ups on websites To think twice before clicking on links sent via email or other messages. Users knowledgeable enough to hover over the link to see where it goes can avoid accessing malicious pages. To verify a website's security by ensuring that the URL begins with "https" and that there's a closed lock icon near the address bar
Keeping your system clean and sanitised from any malicious content with antivirus software. Keep them on to filter traffic between two or more network , also as running on network hardware.
Keep

them

on

to

filter

traffic

between

two

or

more

network

,

also

as

running

on

network

hardware.
Do not open suspicious email attachments and links
Perform

regular

scans

on

the

file

system

,

by

setting

up

scan

scheduler.
Perform regular scans on the file system , by setting up scan scheduler.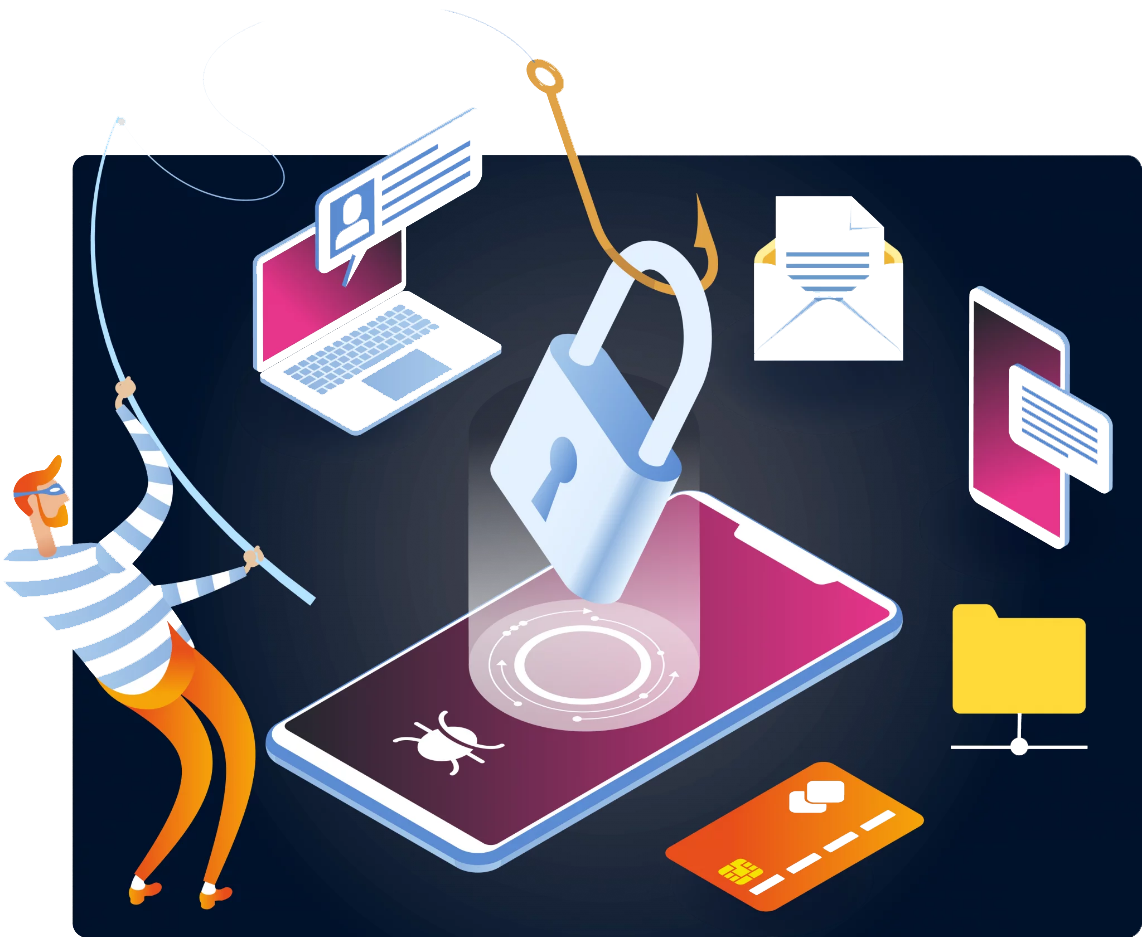 Anti-phishing

toolbar(Used

in

web

browsers)
Extra protection within the browsers will help reduce to risks on stumbling upon potentially malicious websites.
Setup an email encryption server , which will encrypt all outgoing emails, and decrypt all that are incoming.
Access websites which use TLS , most commonly used protocol for web security. Also referred ti as SSL , commonly the website will display a green lock next to the URL of the website
How

can

Wiseserve

help

you?
We

can

recover

your

data.
Our recovery process is 100% effective. No Data. No Charge – If we cannot recover your data, we will not charge you for our efforts. Hundreds of successful ransomware recovery cases – Our proven track record with ransomware has allowed us to evolve as the industry leader in ransomware recovery. Dedicated Ransomware Recovery Specialist
We

can

repair

your

PCs

and

get

your

business

up

and

running

as

quickly

as

possible.
Wiseserve is one of the firsts data recovery companies to become involved in Ransomware recovery is to restore functionality to your personal or your business files as soon as possible. We're able to recover your data after the Ransomware attack and protect your computer for the future.
We

run

test

phishing

campaigns

for

your

business,

to

educate

users

on

the

dangers

of

phishing.
The information in the below email will help your users understand when an email is safe and when it's malicious, but there's no better way of learning than by doing. That's why we'd like to set up a phishing test email for you, a fake attack that looks real, in order to test how security conscious your users are. Several clients have undertaken the test with varying results but in all cases, at least one user has been susceptible and clicked on the 'shady' link. The test is free to set-up and there will only be a flat-fee of £250.00 if any of your users click on the link. If your employees are smart and don't get tricked, you pay nothing!
ESET

Antivirus

with

anti-phishing

protection.
ESET Smart Security, ESET Smart Security Premium, ESET Internet Security, and ESET NOD32 Antivirus provide Anti-Phishing protection that allows you to block web pages known to distribute phishing content. We strongly recommend that you leave Anti-Phishing enabled
Did

you

know,

even

IT

companies

are

targets

for

Phishing

Attacks?
It may seem far fetched – but recently here at computer assistance we were targeted with one of the most sophistacated Phishing attempts we have seen so far. We say attempt because it obviously didn't get through – Our eagle eyed team noticed very quickly that something was amiss, and dealt with it appropriatly. But for your benefit we have taken a screenshot of the seaming innocent and very legit looking 'Customer' enquiry to show you it can happen to anyone.
The email appears to be from a legitimate business quite local to us. The perceived attachment seems to suggest there may be an opportunity to engage with the 'Customer' to assist on some sort of project. On the face of it – there is nothing to suggest that the email is anything but genuine.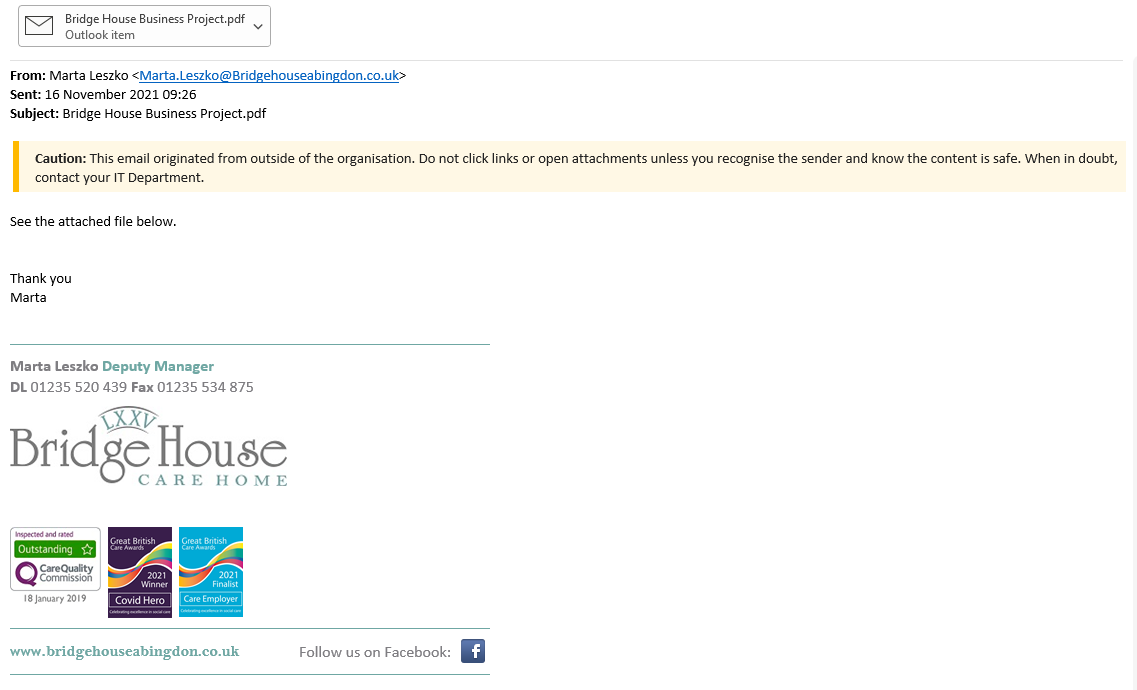 Opening

attachment's

from

unknown

sources
Well, this is a tricky one. You may ask yourself how did we prevent the phishing attack? It was easy really. We don't only sell and advocate the use of an industry strength Antivirus like ESET. We use it in house. When this email came, we first investigated the supposed business – as you should too if you get an email from an unknown source, then with the Anti Phishing Option turned on we investigated the email and the attachment further and were able to determine that the 'PDF' document was in fact an embedded Phishing script designed to run when the attachment was opened. Obviously, we don't expect you to be this vigilant with every single email that comes in. Which is why we recommend an Anti-Virus that can do the grunt work for you. With the offending email safely quarantined we took the further step of blocking all emails from the offending domain name.
The email appears to be from a legitimate business quite local to us. The perceived attachment seems to suggest there may be an opportunity to engage with the 'Customer' to assist on some sort of project. On the face of it – there is nothing to suggest that the email is anything but genuine.
Rated Excellent by PC mag, It seems we aren't the only ones reccomending it. They said – "Bottom Line ESET NOD32 Antivirus earns good scores in our tests and great scores in lab tests, and it offers bonus components that go way beyond the basics."
Contact Us